I'm obsessed with noodles. I can eat anything over noodles. Serve me noodles, I will be happy. Here is a recipe for my favorite cold noodles inspired by spring rolls!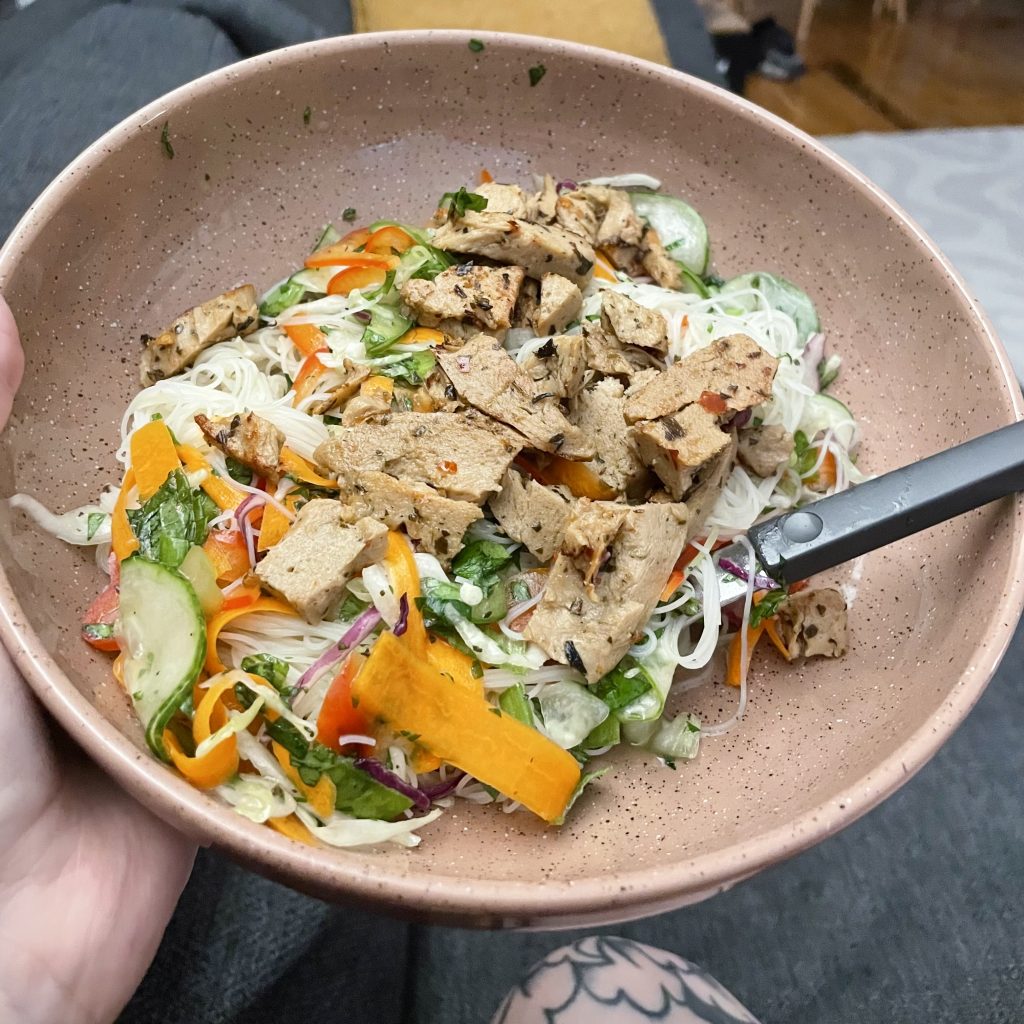 Finely shred vegetables with a mandolin or vegetable shaver (recommended for carrots for long, noodle-y strips)
1/3 cup shredded carrot
1/3 cup shredded red bell pepper
1/3 cup finely sliced cucumber
1/2 cup shredded red and green cabbage
2 finely sliced jalapenos
3 chopped scallions
1/4 cup chopped cilantro and mint
Add all of these vegetables into a large bowl and keep cold until noodles are ready for mixing
3 minced garlic cloves
1/3 cup lime juice
1/3 cup fish sauce
1/3 cup vegetable oil
1/4 cup honey
1 tablespoon of rice vinegar
Mix the sauce and set aside
Boil a large pot of water. Once boiling, grab a large handful of rice noodles (whatever are your favorite!) and add to the boiling water. Mix, and immediately turn off the heat while keeping the pot on the burner. Keep mixing the noodles (I like to use tongs to help separate) for about 6 minutes, depending on the thickness of the noodles. Remove the pot, pour the noodles into a strainer, and rinse the noodles in cold water to stop the cooking process. Add the noodles to the bowl of cold vegetables. Pour the sauce over the mixture. Add salt! Mix aggressively using tongs to get all of the noodles and veggies integrated into the sauce. Top with anything you desire and enjoy!
My favorite toppings for this dish:
Tofurkey Plant-Based Thai Basil Chick'n
Chopped roasted peanuts
Avocado
Fried tofu
---
Not much beats having a nice treat after a long hot day. After a big bowl of cold noodles, I made myself a red plum upside-down cake with cold vanilla ice cream. Take care of yourselves and eat well.