No sentimental pish posh here. This recipe makes good food.

Vegan+ This is made according to a vegan diet and can easily be expanded to a vegetarian or meat diet.
I recommend serving this soup with crispy tortilla strips, raw jalapeno slices, and avocado. You can also add radishes, cheese, or serve with black quinoa for an extra filling punch.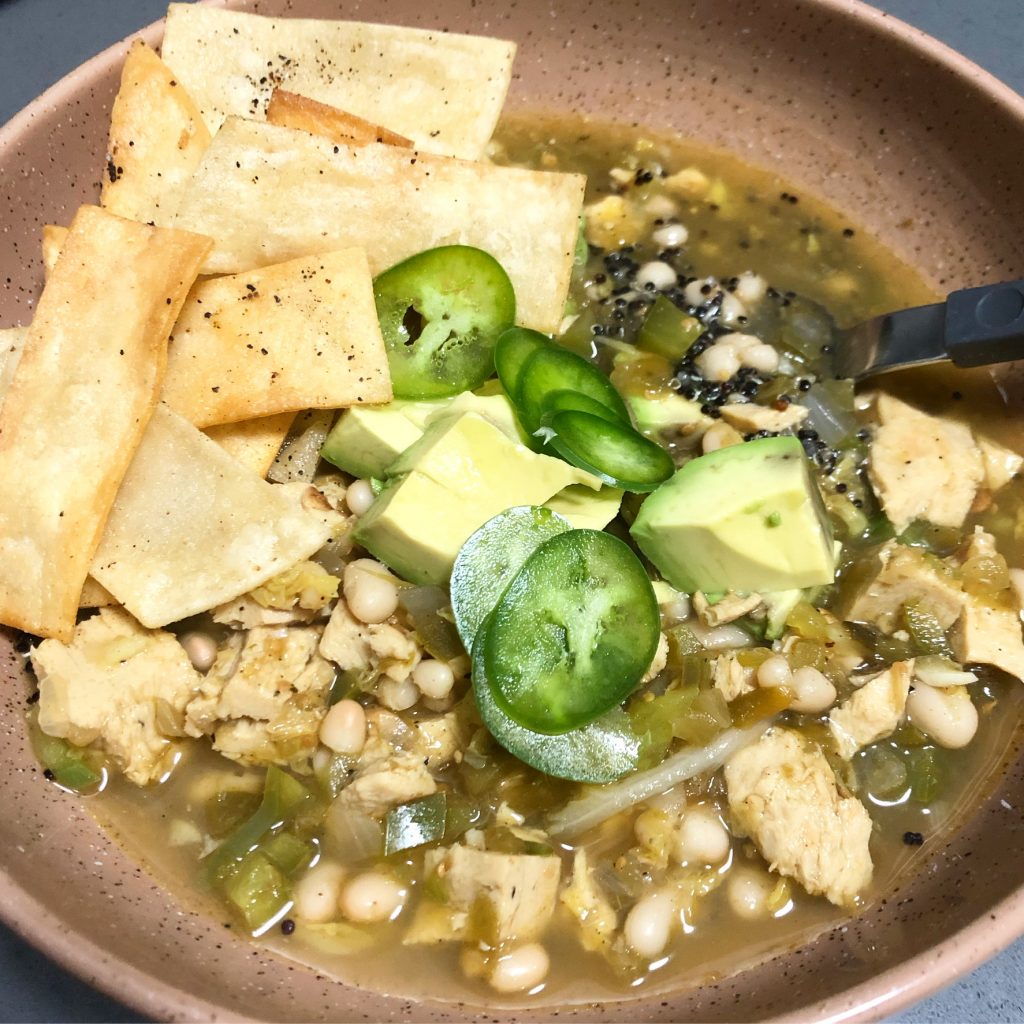 ½ white onion chopped
3 cloves garlic minced
1 large jalapeño chopped (or small if you want less heat)
sauté in vegetable oil until soft (about 5 minutes)
1 cup thinly shredded napa cabbage
sauté with the other veggies until soft and bright green (about 3 minutes)
1 teaspoon cumin
1 teaspoon chili powder
1 teaspoon oregano
1 teaspoon paprika
lightly salt and pepper
mix until combined and fragrant (a few seconds)
juice of 1 lime
2 cups veggie broth
2 cups (16 oz) of salsa verde (homemade or store-bought)*
mix and bring heat to medium, simmer for 5 minutes
(optional) while waiting for simmer, sauté a package of vegetarian/vegan protein to get a bit crispy: I prefer the lightly seasoned plant based Tofurky chick'n
reduce the heat of soup mixture to medium-low
add the optional vegan protein
½ can (8 oz) of small white beans (drained and rinsed)
½ cup of diced green bell pepper
cook for 10 minutes then remove from heat before serving
For crispy tortilla strips
heat a few tablespoons of vegetable oil in a pan at medium-low
slice up soft corn tortillas any way you like and add to the hot oil
mix and flip the slices occasionally to prevent them from sticking together and to get all sides of the tortilla crisp (2 to 3 minutes)
remove strips when crispy and lightly golden and set on a paper towel to draw out excess oil
add the cooked strips to a bowl and season lightly with salt, pepper, chili powder, and lime juice
*Use a salsa you really like because this is where a lot of the soup's flavor and heat comes from. I use Nuevo Tex-Mex Salpica salsa verde because the thickness is just right for soup and has the perfect medium heat.